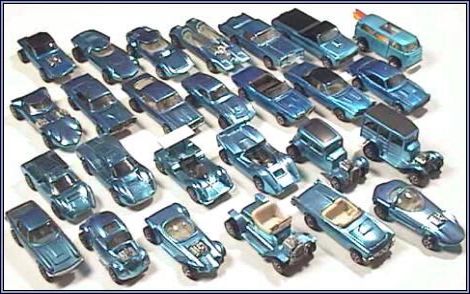 Ice Blues. There are 30-something castings that have worn this color, including prototypes. I'm still trying to determine the exact number. Nearly as tough as hot pink, even though there are fewer castings. Some cars, such as the prototypes, will be almost impossible to acquire. Others, such as the `68 Customs, will be fairly easy yet expensive. I had a number cars in this color back then, as ice blue was my favorite color. I hope I won't have to become independently wealthy to finish this group! I will concentrate on U.S. castings, unless I come across an outstanding H.K. casting, because I think the ice blue finish in general is better on the U.S. cars.

I wish I could have achieved a better pic, but it's tough to show the ice in a room with dark walls -- especially cars with mirror and near-mirror finishes. I'll reshoot the group outside in the future, when the weather permits. Some of these cars are featured on the Spectraflame pages also. The light pale blue Spectraflame used in 1971 and 1972 is another shade entirely, and at this moment I am not procuring this color. My current roster:

First Row - Maserati Mistral (prototype), Custom Volkswagen (US), Beatnik Bandit (US), Hot Heap (US), Classic `57 `Bird, Silhouette (US). Second Row - Ford J-Car (US), Ford MK IV (US), Chapparal 2G (US), McLaren M6A (US), Classic `32 Ford Vicky, Classic `31 Ford Woody. Third Row - Twinmill, Custom Cougar (US), Custom Barracuda (US), Custom Corvette (US), Custom Firebird (US), Custom Eldorado (US), Custom Camaro (US). Fourth Row - Python (US), Turbofire, Torero, Splittin' Image, Custom Continental Mk III, Custom Fleetside (HK), Volkswagen Beach Bomb (reproduction). Models procured but missing from photo - Custom Thunderbird (US), Lola GT70 (US), Volkswagen Beach Bomb (Bright Vision). Models still to be acquired - Classic `36 Ford Coupe, Custom AMX (prototype), Custom Charger (prototype), Mercedes 280SL (prototype).